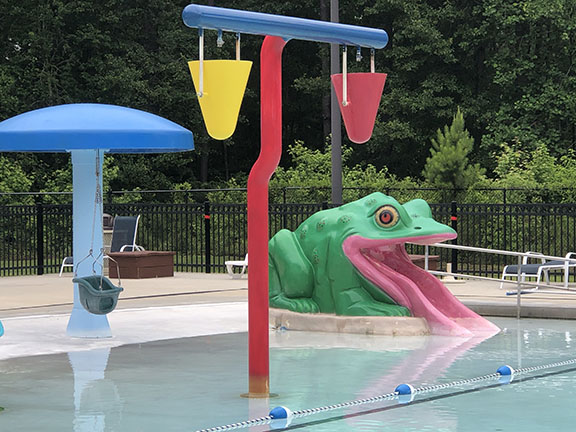 New Bern Aquatic Center
1155 Laura Lane
Stay & play all day!
This family-friendly facility is located at 1155 Laura Lane and is a combination of swim and play: featuring zero-entry pool depths, interactive water features, slides, swim lanes, and a large deck. Also included are family locker rooms, concessions, office space, and a conference room/rest area. A full-time certified pool operator, lifeguards and attendants make up the facility staff. You can also reserve this facility for pool parties. For additional information, call the Aquatic Center at 252-639-2981 or New Bern Parks and Recreation at 252-639-2901.
Due to COVID-19
Maximum Capacity is 75. Face masks are encouraged. Face masks may not be worn in the water. If you are not feeling well, stay home. Social distancing is enforced.
2020 General Admission Fees
Children 0-2 yrs. old
($1.00 for each additional child up to age 2)

Resident
$2.50

Non-Resident
$3.25

Parent & One Child Package (Child up to age 2)

$5.50

$6.75

Youth Ages 3-17 yrs

$4.00

$5.00

Adult Ages 18-54 yrs

$4.50

$5.50

Senior Ages 55 yrs and up

$3.50

$4.50



(fees subject to change without notice)
Aquatic Center Schedule:
Regular Season:
Saturday, June 6th to Monday, September 7
Monday - Friday 12noon - 6pm

Saturday 10am - 6pm

Sunday 1pm - 6pm

Family Night Swim starts in July

Tuesday & Thursday 7pm - 9pm
**NOTE HOURS OF OPERATION IS SUBJECT TO CHANGE**