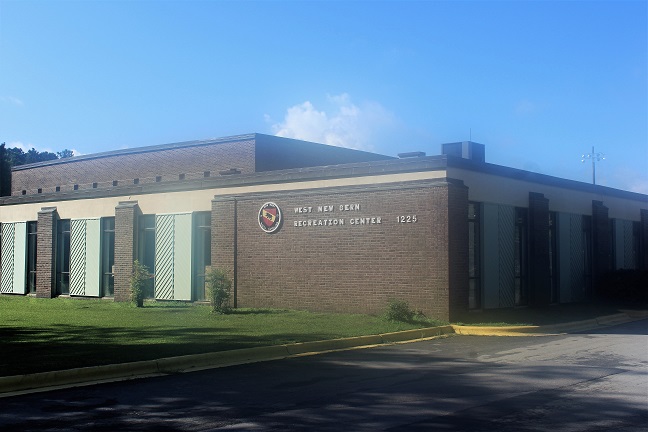 West New Bern Recreation Center is located at 1225 Pine Tree Drive in Seth West Parrott Park. Facilities include a 15,000 square foot recreation center that houses a game room, meeting room with kitchen facilities, air-conditioned gym, ceramic room, and offices.
Our hours are Monday through Thursday, 8am - 9pm; Fridays 8am - 6pm; and Saturdays from 10am - 3pmm (hours vary depending on activities). We offer several youth programs and adult programs throughout the year, as well as hobby & athletic clubs.
Call us at (252)639-2912 for information, or
email
us. Additional staff contact information is located below.
West New Bern Recreation Center
Carlton Metts, Recreation Facility Manager
(252)639-2906
Email
Shelley Washington-Collins, Program Coordinator
(252)639-2912
Email

Emmitt Godette, Program Coordinator
(252)639-2909
Email
Nita Henderson, Ceramics Instructor
(252)639-2912
Email

Ashley Parham, Program Coordinator

(252)639-2913

Glenda Moye

Exercise Instructor

(252)639-2912

Carlos Lassiter, Program Coordinator

(252)639-2920
Programs

Golden Age Club

2nd & 4th Wednesday of each Month

Ceramic Classes (Fall & Spring)
Wed. Noon-3 p.m., Thurs. 6-9 p.m.
Cost $30 Resident, $40 Non-resident, $25 Seniors resident * $30.00 Seniors Non-Resident*
Contact Nita Henderson, (252) 639-2912

B.E.A.R. After School Program

Cooking Programs

For more information on Programs and Times

252-639-2912

Art Programs

For more information on programs and times

252-639-2910



Fencing Club
September-May
Monday-Thursday, 7:30-9pm
Call (252)639-2912 for info

Aerobics

Tuesday & Thursday 5:30pm-7:00pm

Call (252)639-2912




Pickle Ball

Monday, Wednesday 10am-1 pm

Call (252)639-2912

Morning Senior Line Dancing
Thursdays 9:30-11am
Call (252)639-2912


Evening Senior Line Dancing

1st, 2nd and 4th Tuesdays 7pm-8:45pm

Sr. Exercise Class

(Omega Center)

Monday, Wednesday

8:30am-9:30am

Contact Ashley Parham (252)639-2913

Bern Bear Bunch Day Camp @ WNBRC(Ages 5-12)

June -August

Y.E.S. Summer Camp @ Omega Center (Ages 5-12)

June -August

ColorSplash Art Camp (Middle School Age)

June-July

Cooking Camp

July -August

New Dates Coming Soon

Call (252)639-2912

Pickleball Clinic

April 18-22

Contact: Carlos Lassiter

(252)639-2912