George Street Spray Ground
807 George Street
The Splash Pad is Open Daily 12 noon to 6pm!
(Open through Labor Day)
Summers are made for getting soaked! The George Street Spray Park is located at 807 George Street and features an 80' x 80' play pad with several water components to cool down during hot summer days. The GT H20 by Rain Drop Equipment features shower tunnels, foam geysers, pop jets, and mini popcorn jets. Features are changeable to keep the fun going year after year. The park also includes a full- service restroom, a shade area, picnic tables, and off-street parking. The spray park also features a basketball court next door.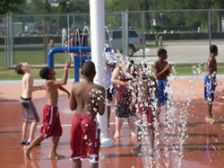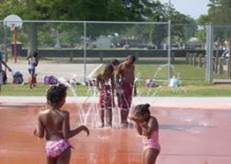 Morning reservations are available by appointment only from 9 a.m. to noon. The park is great for daycares, daycamps or birthday parties. For reservations, please call Parks & Recreation Administration at (252)639-2901. Click here for Reservation Form